Cam Newton has overcome incredible obstacles to become the celebrated athlete he is today. Albeit he took a loss to Peyton Manning and the Denver Broncos in Super Bowl 50, we're enamored by his success story, determination and talent. Not to mention, he's fine.
Here's a few reason we're currently obsessed with the Panther's quarterback.
He's Kind To His Fans
Dubbed the "Sunday giveaway," Cam has given away footballs, to his young fans, since his rookie season in 2011. Not to mention, he's a God-fearing man, who often prays on the field before games.
He's A Family Man
Cam's longtime girlfriend Kia Proctor gave birth to their son earlier this year and because he has so much respect for his teammates, he kept the information private so it wouldn't be a distraction.
He Led His Team To The Super Bowl
Cam lead The Panthers to a 15-1 record in the regular season and won the league's Most Valuable Player Award. At 26-years-old, Cam has plenty time to secure the Lombardi trophy.
He Had The Weight On His Shoulders & Handled It With Poise
Despite what mainstream media wants you to believe, Cam greeted Peyton Manning with a smile after their intense game. Yes, he walked out of the post-game press conference, but wouldn't you after suffering the biggest defeat of your life? Human much?
He's Fine
Like bring him home to ya mama and she swoons, fine.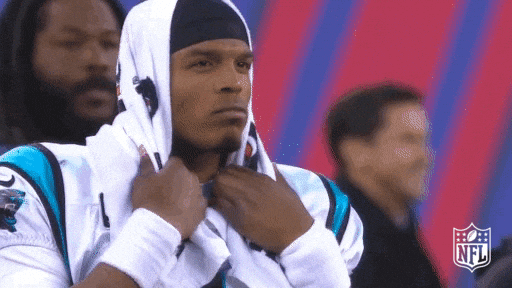 He's Talented
Say what you want about the dabbing and debonair player, his talent speaks volumes. And if we were as talented on the turf, we'd be cocky too.
RELATED STORIES:
Cam Newton Exits Post-Game Interviews
Beyonce Didn't Almost Fall: The Internet Reacts To Queen Bey's Super Bowl Performance
Cam Newton Confirms Son's Birth
Killa Cam! 20 Crush-Worthy Photos Of Cam Newtown That'll Make Your Monday
1. Swaggy C.
Source:Instagram
1 of 11
2. Priceless Panther Smile.
Source:Getty
2 of 11
3. He's a man of the people.
Source:Instagram
3 of 11
4. The dab – his most famous move.
Source:Instagram
4 of 11
5. The arms of a god.
Source:Instagram
5 of 11
6. Those teeth!
Source:Instagram
6 of 11
7. Looking luscious in lavender.
Source:Instagram
7 of 11
8. Come save us, Batman.
Source:Instagram
8 of 11
9. The look of joy. Very, very handsome joy.
Source:Instagram
9 of 11
10. *Dies*
Source:Instagram
10 of 11
11. Bond, Cameron Bond.
Source:Instagram
11 of 11