As we previously reported, Baltimore Ravens super star running back Ray Rice was recorded coming out of an elevator at an Atlantic City, NJ casino dragging his fiancee Janay Palmer on the floor after the two had allegedly been through an altercation only moments prior.
It was not known when the video first surfaced how it was that Ms. Palmer became unconscious. However, recent court documents are possibly shedding some light on how she found herself in that state.
According to NJ police she was knocked out.  Take a look at the complaint below.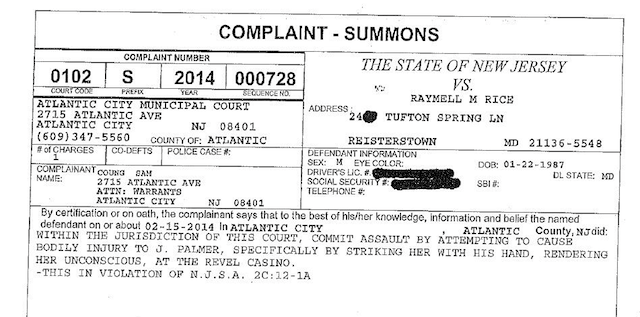 It is also being reported that there is video of the entire dispute which allegedly shows Ray hitting Palmer. If this is true, it's even more troubling. Take a look at more of the story below.
We simply still don't have all the facts in this case yet but  given what we've seen it's difficult for many to grasp how this is going to get any better anytime soon.
But one thing is for sure…if that alleged video of Ray Rice hitting his fiancee and knocking her out ever surfaces…then there will definitely be repercussions throughout the NFL and with his fans and followers as well.
READ MORE HOT ENTERTAINMENT COVERAGE ON THEURBANDAILY
Kenya Moore Threatening Not To Return To RHOA Next Season
Apollo Nida's Bank Fraud Case Causes Phaedra Parks To Lose Her Bravo Show
Kanye West Rants That Press Rags On Him Because He's In Inter-Racial Relationship [VIDEO]
Charlamagne Fires Back At Kanye's Latest Rant: "He's Acting Like A Single Bitter Bitc* Right Now"
WTF: Female Craigslist Murderer Claims Responsibility For 22 Satanic Murders
Other RHOA Cast Members Allegedly Being Investigated In Apollo Nida's Fraud Case
Like TheUrbanDaily.com on Facebook to stay updated with the latest entertainment news and original interviews!
NFL Super Star Running Back Ray Rice Accused Of Knocking His Fiancee Out [VIDEO]  was originally published on theurbandaily.com