She's calling it her "Beetlejuice Goddess" look! Tyra Banks shared a pic on her Instagram page where she's wearing a black and white Fouad Sarkis Couture gown.
The flowing gown cam in solid black and white stripes with a deep cleavage to show off some bosom. Her waist was was tied with a black belt that gave the dress a bigger flow effect. The flow was definitely serious, draping the floor around her.
Her hair added to the flow appeal with its straightened look that fell evenly on both sides of her face and down her shoulders.
What's your vote on Tyra's "Beetlejuice Goddess" look? Take our poll and let us know!
Tyra Banks Hits The Big 4-0: Here's The GIFS To Prove It
1. Happy Birthday Tyra Banks!
Source:
1 of 10
2. Tyra's The Woman Of Many Faces
Source:
2 of 10
3. Tyra's Real Life Photo
Source:
3 of 10
4. FIERCE!
Source:
4 of 10
5. If Tyra Put You Under A Spell...
Source:
5 of 10
6. Hey Tyra, Are You Happy To Be 40?
Source:
6 of 10
7. Tyra Does Not Approve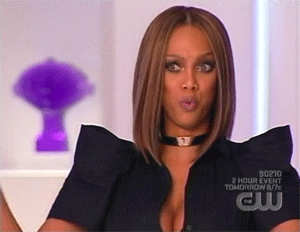 Source:
7 of 10
8. Word Of Advice From Tyra
Source:
8 of 10
9. No Really...
Source:
9 of 10
10. All My Single Ladies!
Source:
10 of 10
HAUTE OR NAUGHT: Tyra Banks' Black and White Couture was originally published on hellobeautiful.com