Where oh where do we begin? According to Buzz Feed, the MTV Video Music Awards did something extremely special and unexpected. They took a touching moment or two out of the program to recognize the citizens of Ferguson, Missouri. They also said some kind words for murdered teen Mike Brown as well.
This should have been a mesmerizing TV moment. And it was…until…the cameras cut to a very bored Kardashian crew  in the audience. The sisters seemed to be texting, talking and doing everything but paying attention to what was being said. The siblings looked like they'd rather be studying to take the SAT's than sitting there listening to Common discuss a city in peril.
Take a look at the pics below at what was apparently happening with Kim, Kylie and Kendall while the tribute was going on!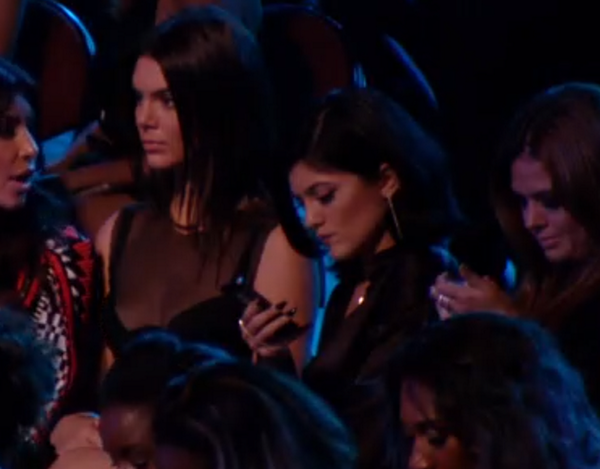 In true Twitter form the tweets started rolling in about what was going on with the K named sisters and it wasn't good!
For the record please notice that we said Twitter had a problem with it…not just "Black Twitter" the entire Twitter as a whole! We really aren't sure how these girls recover from this one. We don't think even their momager will be able to make this one go away anytime soon!
Now…do you think Kanye looked at Kim like this when she got home?
We're just saying!
READ MORE HOT ENTERTAINMENT COVERAGE ON THEURBANDAILY
Iggy Azalea Takes Huge Fall Off Stage [VIDEO]
Nick Allegedly Left Mariah For The Well Being Of Their Kids
Alpha Phi Alpha Fraternity To Pay Full Cost Of Michael Brown's Memorial And Funeral Services
Awesomeness: Orlando Jones Launches "Bullet Bucket Challenge" For Ferguson [VIDEO]
Does Kanye West Really Want To Be The Next Kevin Hart?
Like TheUrbanDaily.com on Facebook to stay updated with the latest entertainment news and original interviews! 
Kardashian Klan Bored, Talking And Texting During Ferguson Tribute Twitter Reacts  was originally published on theurbandaily.com