The Emmy nominations were announced Thursday, and the Black star power was shining bright like a diamond. Thirty Black folks got nominations, from RuPaul's Drag Race to Atlanta to Black-ish. 
READ MORE: 5 Powerful Moments From 2018 ESSENCE Fest In New Orleans
There were also first-time nominees like Kenan Thompson, who finally got some love for Saturday Night Live after more than a decade. Tiffany Haddish received her first nomination for Saturday Night Live, and Issa Rae grabbed her first performer nomination for Insecure. Also, up-and-coming actor Melvin Jackson Jr. received a nomination for Outstanding Actor in a Short Form Comedy or Drama Series for his role in This Eddie Murphy Role is Mine, Not Yours. See the full list below — courtesy in part of The Root. We counted 31 nominees!
Regina King – Seven Seconds
John Legend – Jesus Christ Superstar
Anthony Anderson – Black-ish
Donald Glover – Atlanta & Saturday Night Live
Issa Rae – Insecure
Tracee Ellis Ross – Black-ish
Sterling K. Brown – This Is Us & Brooklyn Nine-Nine
Jeffrey Wright – Westworld
RuPaul – RuPaul's Drag Race & RuPaul's Drag Race: Untucked
Trevor Noah – The Daily Show With Trevor Noah
Samira Wiley – The Handmaid's Tale
Chloe Arnold – The Late Late Show With James Corden
Thandie Newton – Westworld
Zazie Beetz – Atlanta
Leslie Jones – Saturday Night Live
Tituss Burgess – Unbreakable Kimmy Schmidt
Brian Tyree Henry – Atlanta
Kenan Thompson – Saturday Night Live
Letitia Wright – Black Museum (Black Mirror)
Viola Davis – Scandal
Cicely Tyson – How to Get Away With Murder
Ron Cephas Jones – This Is Us
Tiffany Haddish – Saturday Night Live
Maya Rudolph – The Good Place
Wanda Sykes – Black-ish
Katt Williams – Atlanta
W. Kamau Bell – United Shades of America With W. Kamau Bell
Dave Chappelle – Equanimity
Melvin Jackson Jr – This Eddie Murphy Role is Mine, Not Yours
Brandon Victor Dixon – Jesus Christ Superstar
Adina Porter – American Horror Story: Cult
Also, a shout out to Sandra Oh who became the first woman of Asian descent to be nominated for a lead actress Emmy for her role in BBC America's Killing Eve.
The Emmys will air on September 17. All that said, we are still mad Queen Sugar got no love.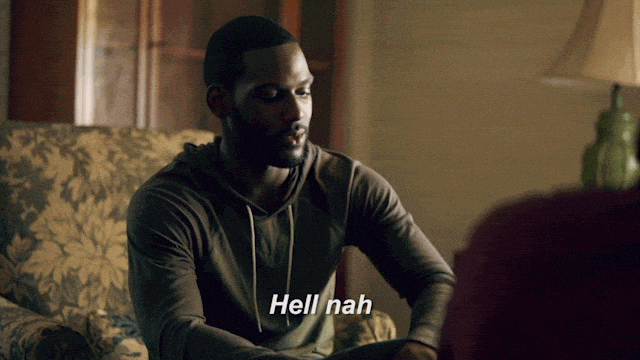 SEE ALSO:
Meet Jogger Joe, The Man Who Took Racist Cue From BBQ Becky In Tossing Homeless Man's Clothes
Outraged! This Black Doctor Couldn't Even Go To Her House Without Man Calling Cops
Man Who Called Cops On Black Man At Swimming Pool Is Fired
Every Time Auntie Maxine Waters Proved She Was Unbought And Unbossed
1. The Legend
Source:Getty
1 of 9
2. Maxine Waters Telling People To Push Back Against The Trump Administration
Source:false
2 of 9
3. Shoot Straight
Rep. Maxine Waters: "We have some members of Congress who are intimidated. I have no fear. I'm in this fight…If you shoot me, you better shoot straight. There's nothing like a wounded animal…They dare me to say impeach him. Today I say Impeach 45." #FamiliesBelongTogether pic.twitter.com/OwNTvR5PSg

— Keith Boykin (@keithboykin) July 1, 2018
Source:false
3 of 9
4. Auntie Maxine Rips Into Ben Carson
Source:false
4 of 9
5. Maxine Waters Lays Into Republican Who Says Sarah Sanders Being Refused Service At A Restaurant Is Like Jim Crow
Source:false
5 of 9
6. Maxine Waters Shuts Down Paula Faris
Source:false
6 of 9
7. Maxine Waters Calming People During The 1992 Los Angeles Riots
Source:false
7 of 9
8. Reclaiming My Time!
Source:false
8 of 9
9. And, Of Course, There's the Remix
Source:false
9 of 9
More Than 30 Black Folks Were Nominated For Emmys  was originally published on newsone.com